As the Scots poet, Robert Burns (1759-96) once wrote, " the best laid schemes o' mice an' men/Gang aft a-gleys." While planning this first blog post, I had opted to highlight the Kermadecs and the need to protect them as part of Planet Blue Hope's feature stories. I never expected there to be an announcement of New Zealand's newest marine sanctuary – the Kermadec Ocean Sanctuary – prior to me starting this blog. It was a sanctuary that had been 'under discussion' for years. It would likely take months, if not years, more before an announcement would be made. So, a plan to highlight the Kermadecs and feature a region of marine wonder and hope seemed like a long-term writing plan. A plan that could cover a variety of twists and turns as efforts to secure the Kermadecs marine protection unfolded.
Yes, I had planned to write about the Kermadecs. To share information about this incredible oceanscape, its sea life, the biodiversity, its value to nature and culture. Yes, I wanted to share an impassioned plea to protect this vast ocean space because it was one of the few places on our planet still in healthy-ish order, resilient, hopeful. It represents Planet Blue Hope – a planet where people come together to protect, care & nurture our home.
Okay, so my initial plan to convince you to support and lobby on behalf of the Kermadec Ocean Sanctuary has been gazumpt – and hurray for that! And, hurray for the many people and organisations who worked tirelessly over the years to secure this outcome. The partner organisations deserving special mention include: Pew Charitable Trust, WWF New Zealand and the Royal Forest & Bird Protection Society. It is no small feat to protect an oceanscape that's 620,000 sq. kilometers in size and over 15% of New Zealand's Exclusive Economic Zone (EEZ). It's no small feat to do so in the face of human demands like fishing and mining. And while the current New Zealand Government is not leading in environmental decisions and actions, it got it right on this occasion. Well done.
Of course, there's no reason I should abandon my plans to share the wonders of the Kermadecs. They are an incredible part of our planet, probably one few people actually know much about. You are one of those few who do know about them, so please pass it on. This is one awesome place.
So, where are the Kermadecs? They are approximately 1000km northeast of New Zealand, hanging out in the tropics of the Pacific. They are made up of a series of volcanic cone remnants with the five main islands having their own special names: L'Esperance Rock, Curtis Island, Cheeseman Island, Macauley Island and Raoul/Rangitahua.  Indeed, the Kermadecs are pretty significant because these islands are the longest chain of submerged volcanoes in the world. They are uninhabited, except for Raoul/Rangitahua where conservation researchers and a weather station supported by New Zealand reside. Raoul/Rangitahua is the only island with permanent water, so it makes sense that it's the 'base' for human activity
Here are two maps that might help – I find it easier to get my bearings this way and, besides, maps are works of art and lovely to look at even if you don't need to get your bearings. The first map is from GNS's archives (thanks!) and provides a wonderful image of the length of the Kermadecs archipelago, stretching from off New Zealand's White Island right through to Raoul/Rangitahua Island.
Source: GNS, n.d.; link: http://www.gns.cri.nz/var/ezwebin_site/storage/images/media/images/kermedec-arc-system-small/58103-1-eng-GB/Kermedec-Arc-system-small.gif
The second map is the one the BBC used (originally released by the Pew Environment Group) when it reported on the new Kermadecs Marine Sanctuary on 29 September 2015. The brown hashed line represents the boundary of the new 620,000 sq. km sanctuary – a significant improvement on the previous 12-nautical mile (7500 sq. km) marine reserve gazetted in 1990.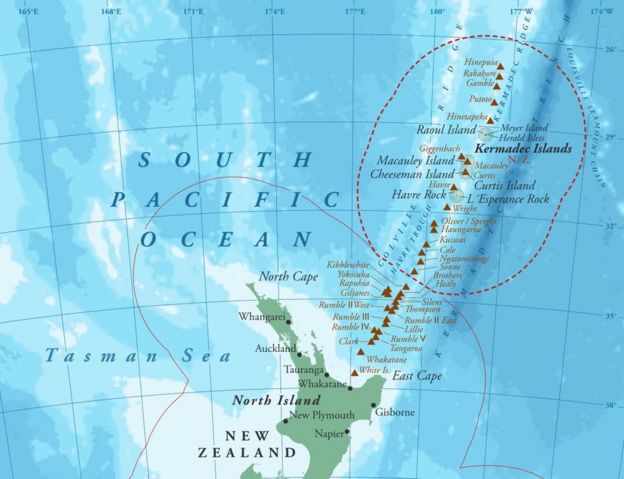 Source: BBC, 2015; Link:
http://ichef-1.bbci.co.uk/news/624/cpsprodpb/A492/production/_85803124_ec6e5b32-9efa-4d65-baab-ba73bbdcc6eb.jpg
What you can't see so well from these maps is that the Kermadec Trench is deep – 10 kilometers deep and the fifth deepest place on Planet Blue Hope. Ocean trenches are found in every ocean basin, but the Pacific "Ring of Fire" has the largest number – which also aligns with its active volcanoes and earthquakes.
For a cool 3-D map of the Kermadec Trench, check out this link to the Woods Hole Oceanographic Institution. http://www.whoi.edu/page.do?pid=95816&cl=95813&tid=5122
The Ring of Fire is a special, active zone on our planet that also features some of the greatest marine biodiversity in the world. So, it shouldn't be a surprise that the Kermadecs are home to a fantastic community of marine life, including almost 35 species of whales and dolphins, 150 fish types and 3 of the 7 species of sea turtle. If you decide to read my blog regularly, you will discover I am a sea turtle fanatic and am especially delighted that the Kermadecs are home to Hawksbill, Leatherback and Green sea turtles. As New Zealand's Ministry for the Environment (2015) highlight, the Kermadecs are also home to over 6 million seabirds from 39 species from the smallest Storm Petrel to the now infamous mariner of old, the Wandering Albatross.
New Zealand is a special place for sea birds with seabird hot spots in Kaikoura and Te Waihora on the South Island, plus the Firth of Thames in the North Island where the precious bar-tailed godwits return from their incredible non-stop, 11,000 km migration flight from Alaska. With the Kermadecs seabird hot spot, Aotearoa New Zealand is definitely an ornithologist's dream. There aren't many trips to the Kermadecs, however, so if you want to find out more you'll either have to revisit this blog (there will be new posts), seek out the few, but awesome, sites about the Kermadecs or scout out one of the rare, special trips where you can experience this mighty new Ocean Sanctuary up close and in person.
You can also return here to Planet Blue Hope to discover other wonders, mysteries and challenges that face us on this unique blue planet of ours.  See you soon!